BrightFlow helps you identify bottlenecks with a visual activity snapshot
Many of our customers have been using our BrightFlow feature to identify candidate bottlenecks and get things moving quickly. If you are not currently utilizing this feature, we encourage you to give it a try as it can make a big difference to recruiter efficiency and the applicant experience. For those of you who have not had the opportunity to try it - here's a brief introduction:
BrightFlow is a Kanban style implementation of the submittal workflow providing you with a visual candidate activity snapshot. It presents a high-level view of statuses that can be categorized into user-generated Swim Lanes. Adding another layer to your submittal workflow provides a notable increase in recruiter efficiency and visibility into your open positions. BrightFlow's clean UI packages your statuses into highly customizable fields for easy viewing and tracking.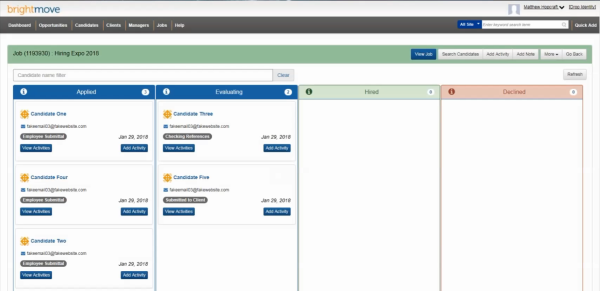 Add new activity right on the Candidate Card or Drag and Drop them into another section of your workflow
Moving your candidates through your workflow in BrightFlow is a snap with Drag and Drop functionality
Check out a candidate's resume by clicking on the magnifying glass and send them an email by clicking on the letter icon. Add new activity right on the Candidate Card or Drag and Drop them into the next major section of your workflow. The Dashboard view of BrightFlow provides a snapshot overview of all of your jobs so you can quickly gauge where to focus your attention and know if a job is currently being posted out to the web. Jobs are also searchable for easy selection.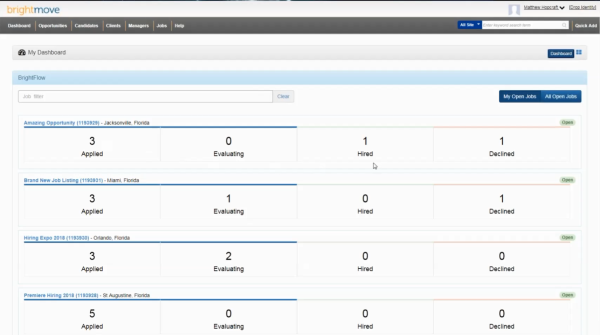 The BrightFlow Dashboard view gives you a high-level snapshot of each position status